Thinking of trying the sport of Archery?
All courses are led by Archery GB Level 1 Coaches & assisted by Club Members, all of whom have valid DBS certificates.
Safety in archery is of utmost importance, so before you can become a member of any archery club you need to complete a short beginners course and a certificate will be issued to those who pass all the safety requirements. Once completed, the certificate can be presented to any archery club as proof that you have met the requirements for shooting safely, if you meet all of the club's criteria, you may be eligible to join.
Beginners enjoying the "Art of Archery"
How long are the courses and when are they run?
The courses are held over six, 2 hours sessions with one lesson each Friday commencing 7pm and finishing at 9pm. You will need to be able to attend the sixth session of the course to receive your certificate…
Current course availability for 2020:
Course 1 – February 7th, 14th, 21st, 28th, 6th March & 13th March NOW FULLY BOOKED
Course 2 – March 20th, 27th, April 3rd, 17th, 24th & May 1st NOW FULLY BOOKED – Course cancelled due to the Pandemic!
Course 3 – May 15th, 22nd, 29th, June 5th, 12th & 19th NOW FULLY BOOKED – Course cancelled due to the Pandemic!
Course 4 – July 17, 24, 31, August 7, 21 and 28 NOW FULLY BOOKED – Course cancelled due to the Pandemic!
Course 5 – September 18, 25, October 2, 9, 16, and 23
Course 6 – November 13, 20, 27, December 4, 11, 18
More courses will be announced soon
For advice on places available, to be added to the waiting list or for more information please contact our Beginners Course Coordinator using the Contact form
Courses at Bronte Archers consist of up to 12 hours of friendly tuition and advice.
Safety when shooting
Introduction to Archery Equipment
Shooting Technique (explained as you shoot)
Guide to Archery etiquette
Setting up Targets (when outdoors)
Scoring
How much will the course cost?
The fee for the complete course is £60 per person and we ask that this be paid before the start of the first session.
Juniors
Acceptance of juniors: Juniors must be at least 8 years old to enrol on a beginners course; the same age limit applies to joining the club. In accordance with Archery GB and club policies for the protection of children and vulnerable adults, all juniors must be accompanied throughout the course by a parent or a responsible adult. All our coaches are DBS checked.
Do I need my own equipment?
No, we provide all the equipment for the course. Please, do not buy any equipment until you have decided that you wish to continue on your archery journey. After the course, we can offer advice to help you purchase your own equipment. Our local Archery shop is Aardvark Archery Ltd
Clothing
You should wear comfortable but close fitting clothing. If it's cold weather better to wear several thin layers rather than one bulky one. In particular, it's important that you don't wear jumpers or jackets with baggy sleeves as bow strings tend to catch on them and spoil your shot!
For the same reason and for personal safety you should remove any jewellery or personal body piercing that might be caught by the bowstring. Long hair needs to be tied back and your shoes should have a fully enclosed toe, not sandals or crocs!
Sessions will not be cancelled due to rain/bad weather unless there is a risk of thunder and lightning or reduced visibility makes shooting dangerous, so please dress appropriately.
In the Autumn and Winter months, courses are always held indoors.
Where are the lessons held?
All lessons are held in the Clubhouse located at Rawdon Meadows Playing Fields. From Harrogate Road, turn into Woodhouse Grove School and take the far right road towards the single story Clubhouse (see map below). Please park your car to the rear and walk around to the front of the building. The Poscode for your Sat Nav directions is: BD10 0NR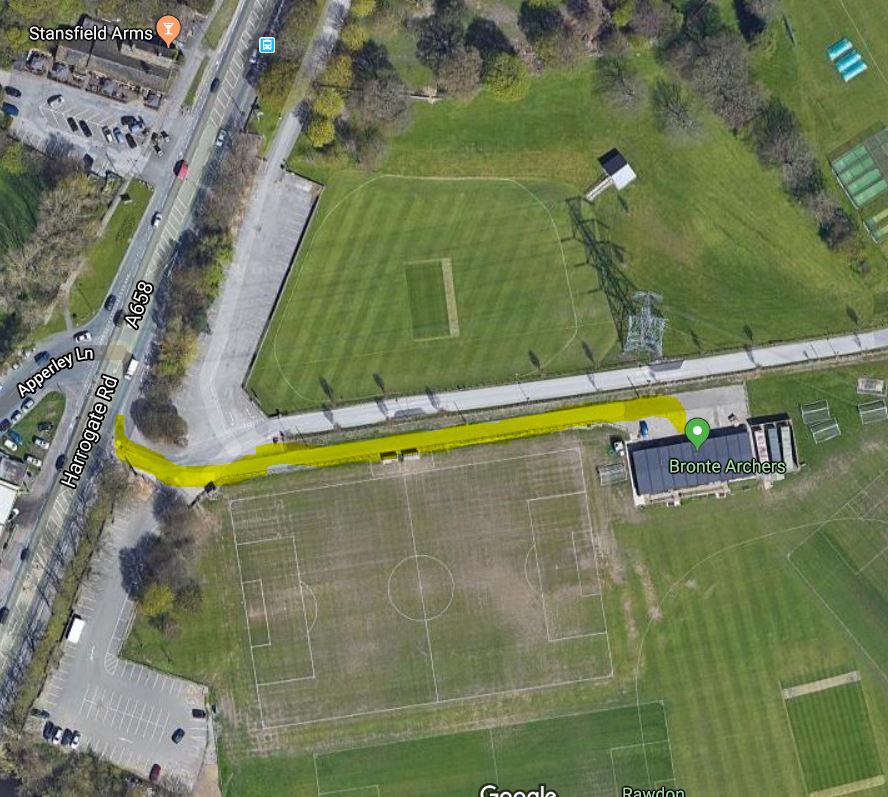 Reviews:
If you are interested in archery, I would definitely recommend Bronte Archers six-week beginners course. It was great fun above all else. The coaching was excellent and the small group (just five of us) meant we got lots of individual attention. All the coaches were amazingly patient, inspiring us to do well by doing what all good coaches do – encouraging us to do more of what we did well and gently reminding us of things we inevitably forgot. A bonus for our group was being invited to the club Christmas social shoot where we were welcomed and encouraged by many members of the club. Bridget Barr: attended course beginning Nov 2019